The 2018 roar. Father and son combination David and Max took a couple of fine stags: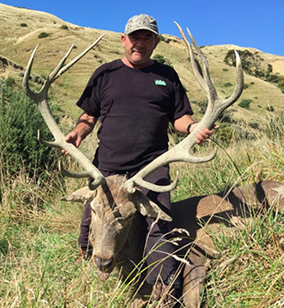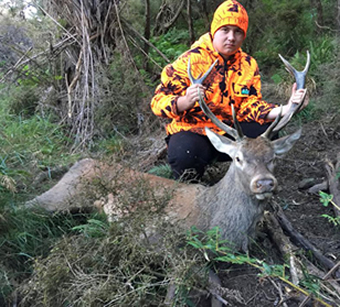 Still some great dates available for this month for meat hunts and 2019 for trophy hunts. Contact Boyd today on 06 3726 441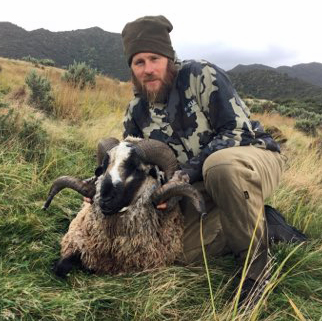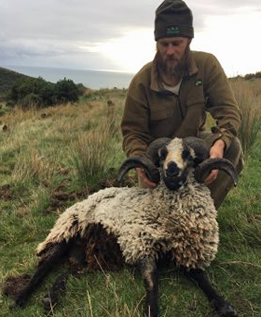 Michael from Tasmania with 2 tyrophy Arapawa Rams taken in April 2018 at Okau Park
Some highlights from the 2017 season:
For our free-range trophy hunts we achieved a 100% success rate, with red deer stags shot ranging from a 8 point stag up to 12 points. Some very good Fallow deer well over 200 SCI score were also taken. Wild goats and pigs were plentiful and some good trophy horns and tusks taken. For diversity, some turkey hunting was also done. With the estate hunting some very large red deer trophy over twenty points were taken. Photos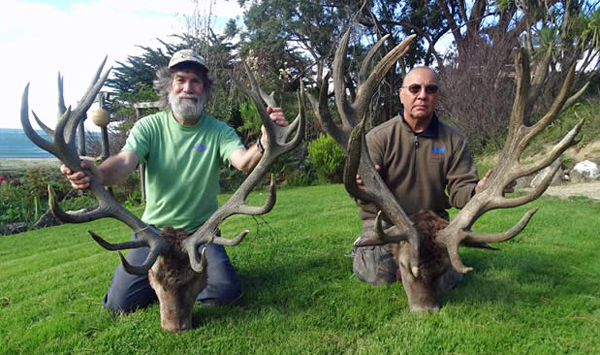 On our casual meat hunts all of the hunters have had success with some getting up to 4 deer for the trip with a good number of pigs and goats also being taken.
Free-range trophy hunting as well as estate trophy hunting and casual meat hunt bookings are now being taken for the rest of the 2019 roar season as well as the 2020 roar.
We still have some trophy hunts available for the 2019 season during May and June
The roar period in New Zealand runs from 1st April through to the 10th May, with the peak of it normally being from the 5th April till the 25th April.
All hunting is on Okau Willderness Park, a privately owned forest park over 5,000 acres which is part of a large coastal Wairarapa mountain range. The park is not deer fenced.
This spring and summer have given good growth conditions, with the game being in very good condition, therefore some excellent trophies are about.
Trophy hunters wishing to hunt for the 2020 season are advised to book early if they are hoping to hunt during the roar period.
The cost per hunter for up to five days free-range trophy hunt for 8 point red deer stag or over up to 12 points or a trophy Fallow stag is NZ$4,000, includes a stag up to 12 points guiding and all food and accommodation during the hunt
For a roar time cull type stag hunt red or Fallow for two hunters or more is NZ$1,900 per hunter, all inclusive (includes up to 2 stags per hunter) up to five days hunting guiding all food and accommodation during the hunt. Available from late April to June.
For the hunter wanting a large red deer trophy over 14 points the estate hunt would be recommended
Cost for the basic estate trophy hunt for a red deer stag of 14 points and over up to 18 points US$4200 all inclusive up to five days. For larger red deer stags over 350 SCI or 18 points POA
For more details go to the prices and trip schedules page.
Bookings for casual hunting will be available after the roar, from May 2018.
For a booking either email Boyd or by telephone:
Phone from New Zealand: 06 372 6441 or 027 626 1474
Phone from overseas: +646 372 6441