Some points of interest from the 2016 season:
For our free-range trophy hunts we achieved a 100% success rate, with red deer stags shot ranging from a 10point stag up to 16 points. Some
very good Fallow deer over 200 SCI score were also taken. Wild goats and pigs were plentiful and some good trophy horns and tusks taken. For diversity, some turkey hunting was also done.
u Station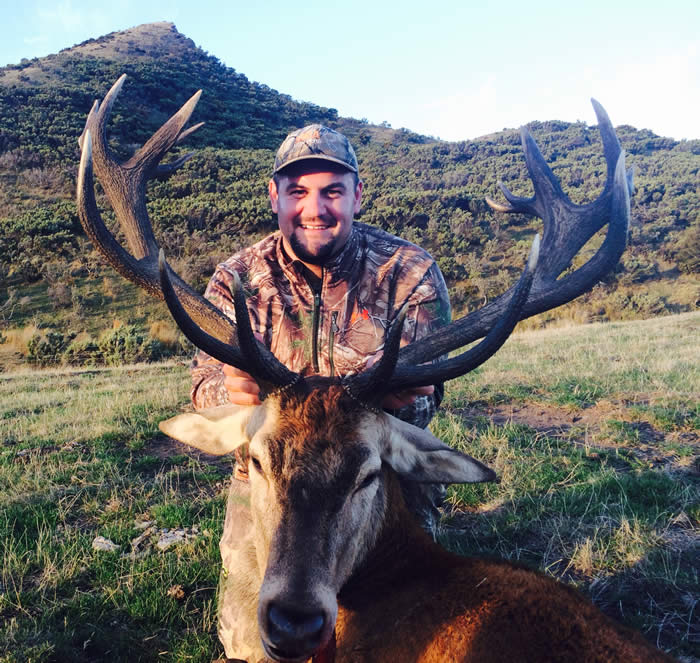 For our estate hunting some good stags from 14 points up to 30 points with some over 360 SCI.the three bow hunters also had success in securing an animal.
On our casual meat hunts all of the hunters have had success with some getting up to 4 deer for the trip with a good number of pigs and goats also being taken.
Free-range trophy hunting as well as estate and casual meat hunt bookings are now being taken for the 2017 roar season.
We still have some good roar time trophy hunts available for the 2017 season , the1st April till the 5th,or the10th april till the 15th.
for a mix of either free-range or estate hunting for a trophy red or fallow stag, for two or three hunters
Either of these hunt dates would be suitable for bow hunters.
also the only other roar time hunt available is for a free-range hunt only, for up to two hunters.
for the 5th April till the 10th april.
The roar period in New Zealand runs from 15th March through to the 10th May, with the peak of it normally being from the 26th March till the 25th April.
All hunting is on Okau Willderness Park, a privately owned forest park over 5,000 acres which is part of a large coastal wairarapa mountain range. The park is not deer fenced.
This spring and summer have given good growth conditions, with the game being in very good condition, therefore some excellent trophies are about.
Trophy hunters wishing to hunt for the 2017 season are advised to book early if they are hoping to hunt during the roar period.
The cost per hunter for three to four day free-range trophy hunt for 10 point red deer stag or over up to 13 points is NZ$3,500, all inclusive.
Three day roar hunt for Mature red stag cull type up to 11 points for two hunters or more is NZ$2,500 per hunter, all inclusive (includes up to 2 stags per hunter)
For hunters wanting to hunt for a minimum of 14 point red deer stag, a mix of free-range and estate hunting would be required to guarantee a shot at such a trophy. All inclusive cost is $4,500 per hunter (includes a stag of 14 points and over upto 16 points)
For the hunter wanting a large red deer trophy over 16 points the estate hunt would be recommended
all inclusive cost for three to four day hunt NZ$6500 per hunter
For more details go to the prices and trip schedules page.
Bookings for casual hunting are now available through until 15th December 2016. and after May 2017
For a booking go to the enquiry page, or contact us at, boydvermeer@hotmail.co.nz or gert@nzhunt.com
Ph 06 3726 441 or 06 3726892 add the country code (+64) if calling from overseas.